Discover more from Burning Shore
Consciousness Culture from a California perspective
April Blast
Erik's Trip
Hi everyone. What a difference a month makes. Last time around the virus was just beginning to slip its invisible tendrils into American social reality, and I was crowing about maintaining social connections in the face of panic. But like many in my Bay Area neck of the woods, I listened to the nerds and adapted as quickly as possible to the new reality. I also freaked out a bit, which in retrospect was understandable but still kind of shocking. But I am doing my best not to look away from what is being revealed, both within and without.
It is when the machine begins to break down that you begin to see how it works. Likewise it is when authority is challenged that you begin to see the otherwise concealed workings of the power structure. This we could call...preemptively apocalyptic knowledge... —Mick Taussig
You will also notice a change to this newsletter, as I abandon the increasingly pernicious and market-mad Mailchimp. This new Substack platform means some shifts in look and feel, and it also no doubt some stumbling at first. Substack is designed to funnel funds to writers, and I encourage readers and listeners to support my work by subscribing to this list for the whadda-deal rate of $5 a month. Paid subscriptions will eventually allow you to access extra posts, but I will be ramping up casually over the next few months.
MEDIA
To judge from tweets and feedback, people are digging my recording of the audiobook for High Weirdness. Folks tell me that the release brings the story-telling forward while acting as a kind of mini-course in the counterculture and the modern weird, as well as a deep dive into McKenna, Wilson, and Dick.
Given the extended vacation from podcast hosting I still seem to be on, it is great that other folks have been inviting me onto their shows to talk about the audibook and our new weird world. I had the pleasure of talking "Pandemic Perspectives" with Michael Garfield, Tony Blake, and Mitch Mignano over at FUTURE FOSSILS. More podcasts are soon to follow.
Finally, I wanted to share my HILOBROW review of the great John Carpenter and Dan O'Bannon film Dark Star, as fine a plague distraction as you could hope for. This review came out in February, just before copyright trolls attacked the labor-of-love HILOBROW (thanks guys). After a grueling photo trawl through the site by stalwart editor Joshua Glenn, this wonderful site is now back online.
EVENTS
Everything has moved online of course, which has never felt so tactile and alive. Will we soon come to accept this as full socializing, ignoring the latency and glitches and the lack of animal presence? Is the virus just accellerating the cyberpunk enclosure? But the tools are here, so let's use them well.
For the next six weeks, I will be joining Spiros Antonopoulos every Thursday at noon PST for CINEMATIC MEDITATIONS, an online hang-out that includes some brief sitting, a short clip of poetic cinema or video, and discussion. Moving images can feed into our practice, providing a concrete mirror of our own minds. We have some fine and obscure clips cued up, designed to tickle your dharmabone. Details and sign-ups available over at LAYC.

This Friday, at 5:30 PST, I will be participating in a TRIBUTE TO TERENCE MCKENNA hosted by Dennis McKenna and our mutual friends at Psychedelic Seminars. Terence died twenty years ago, and over the next few weekends, Dennis will be hanging out with some of T's wonderful friends, like Eduardo Luna, Bruce Damer, and Rupert Sheldrake. On Friday we will be streaming a recently discovered hour-long film of Terence shot at Esalen in 1989. After the showing, Dennis and I will have a chat—the first in-depth conversation we have had since the publication of High Weirdness. Sign-up here. More info on the whole series here.
This Saturday, at 6pm PST (not the usual 7:30), I will be hosting the monthly meeting of the San Francisco Psychedelic Sangha. Since we are going virtual, I decided to begin earlier in the evening so that East Coast folks could join. The gathering, which will feature some meditation but mostly talk and discussion, will still be taking place under the auspices of the San Francisco Dharma Collective, which has been doing an amazing job slipping into our strange new condition. The Zoom url is bit.ly/sfdharma.
---
READING
Stephen Jenkinson's Die Wise: A Manifesto for Sanity and Soul is one of the most emotionally challenging and rewarding books I have ever read, one that I had to put down many times before girding up for another plunge. A long-term palliative care worker, teacher, and consultant, Jenkinson spends the first few hundred pages on an honest, gimlet-eyed, and utterly devastating protrait of the "death trade" in modern America. Weaving in personal encounters and withering observations, he patiently illustrates how the American denial of death diminishes, confuses, and erases what we should still be calling, in the face of the mortal mystery that surrounds us, soul.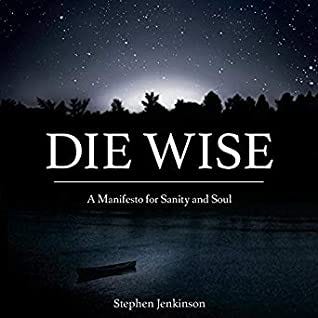 In the book's second half, Jenkinson attempts to coax us into an initiatory relationship with death and dying, one which requires us to overcome cheap psychology, recognize our obligations to the earth and our own dead, and finally learn to grieve, to honor our broken heart as we mingle with the vibrant boneyard of the actual. Writing with a deep, sad, and sober lyricism, whose rhythms carry you into the deep like ocean currents, Jenkinson enchants more than he argues, and I sometimes yearned for some mordant carpe diem bone-dancing humor to balance out the heavy. Whatever. Jenkinson stands as that rarest of white North Americans: a genuine elder, one who derives his authority not from his considerable knowledge but from that more rare and dangerous thing he both dares to manifest and demands of us: wisdom.
WATCHING
The virus literally at our doorsteps makes an interesting demand on the movies and shows we are now consuming like mad. In order to escape from the news cycle (and possibly our fellow shut-ins), we need something that truly entertains, that yanks us, without too much effort, into the temporary holding cell of narrative and image. But unless this voyage somehow reflects or refracts our anxious and displaced condition, it doesn't really register as anything other than empty distraction. We need to alchemize those anxieties!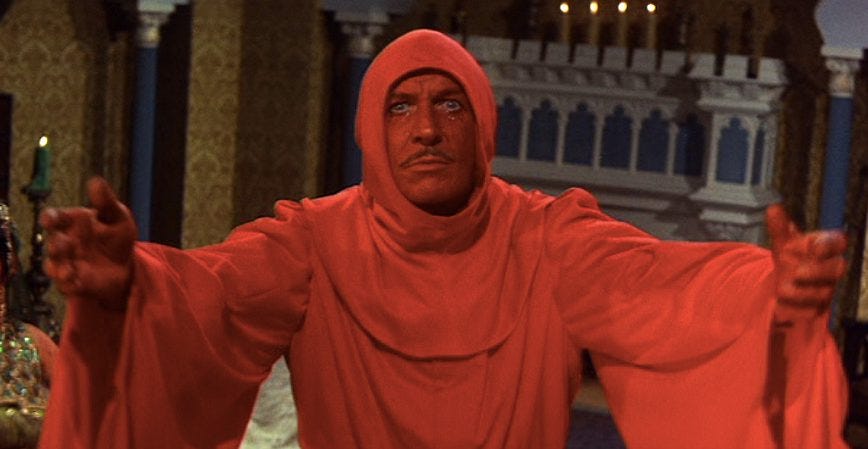 One answer is over-the-top horror. I particularly recommend The Masque of the Red Death, one of the handful of mostly wonderful Edgar Allen Poe films made by Roger Corman on the cheap in the early 60s. Like almost all the flicks in the series, it stars the great Vincent Price, who is also my favorite fellow Yalie. (Go Weird team!) Price's portrayal of a cruel Satanic prince—lascivious, cunning, and arrogantly confident until the final comeuppance—is one of his most delicious. Great sets, vivid costumes, and some inspired and hedonistic devil worship all underscore a grim message now broadcast across the land: After the game, the king and the pawn go into the same box.
LISTENING
I have been in love with AQUARIUM DRUNKARD's mailing list, streams, and musical curation chops since I stumbled across a three-part collection of rare 70s Jesus Freak music they posted years ago. Given that millions of us are now stuck at home, addictively trawling newsfeeds while trying to stay sane, the AQ kids just launched Radio Free Aquarium Drunkard, a wonderful 24/7 radio stream of joy, verve, and reflection. Admittedly, I find my own sensibility uncannily mirrored in RFAQ's mix of scruffy indy, ladyfolk, 90s basement tapes, spiritual jazz, weird country, and deep deep 70s. But I am particularly enjoying the intimacy, wit, and kindness of the selections, segues, and overall vibe. These days we should all be paying close attention to the collective process of meaning-making. This means ignoring the algos and opening up to playlists, personal recomendations, and DJs. Tune in!