Happy Beltane! I genuinely hope you are able to go outside and dance around a tree.
This is my monthly Blast, a gathering of news, links, and capsule reviews. Most of the rest of the posts on the Burning Shore will be personal essays and longer reviews. Down the road, I hope to roll out some audio interviews as well as archival Cali pieces from Techgnosis.com. I may even record and post me reading some weird West Coast tales, which just sounds like fun.
I am feeling pretty good at the moment because earlier rumors that the Gav was going to close all the beaches in California proved unfounded. Bait and switch? In any case, I and my fellow San Franciscans can still clear our heads out at the shore. I have never appreciated walking on the beach as much as I have recently, the lively flux of power, brightness, critters, and tang that courses along the seething, crashing edge of the mighty sea that defines the West Coast's West. Joyce Carol Oates once admitted that the Pacific "revulses" her because "its vastness cannot be fitted into any box." Spoken like a true New Yorker—a lot of us out here like it outside the box.
Links
Last Bicycle Day I took part in an inaugural ceremony honoring the Psychedelic Video Museum, an extraordinary online collection of trippy videos from across space and time, curated by Ido Hartogsohn and friends. For my bit (at 23:15), I decided to call on Sri Ganesha via Jim Woodring and Damon Soule.
I also made an audiobook recording of one of my essays from the AUDINT—Unsound:Undead book for the Urbonomic PlaguePod. Elsewhere, I dove into Covid politics on the MIT Press Podcast, and waltzed down weird memory lane with Nick Holderbaum over at Primalosophy.
The crackle of hitherto unforeseen connections is what excites [Davis]. 'There were larger patterns afoot' is the overarching mandate.
The above quotation, which tickles me, is from a nice long review of High Weirdness, rich with 70s arcana and (happily) only one major complaint: Sean Hooks' "Textualizing the Quiddities" over at 3:AM Magazine. There haven't been too many reviews of my book, alas, but that's par for the course in my experience—Techgnosis, my most famous tome, is still in print after twenty plus, and it got maybe half a dozen decent-sized reviews at the time it was published. Every time I get mopey about this stuff, though, Jennifer reminds me that I've spent my life studying gnostics, fringe intellectuals, drug undergrounds, and Zen poets. "What did you expect?"
Upcoming Events
This weekend is gonna be busy. On Saturday, May 2, I will be participating in the weekend-long Awakened Futures Summit, put on by the Consciousness Hacking crew. I will be leading a Deep Dive conversation about "Technology and Presence," starting at 4pm Pacific. The conference's not cheap, but they run a very good show and are responding creatively to the challenges of staging gatherings in the Zoomverse. I am also able to offer a 25% off discount pass here.
Later on that same Saturday the 2nd, I will be hosting the monthly gathering of the SF Psychedelic Sangha, once again online. We will be meeting earlier than usual, at 6pm PT, to accommodate East Coast peeps. After a short talk, I will lead a meditation and then we will open it up to discussion. We'll be playing with the border between observation and feeling, and of course the border between psychedelics and dharma. Sign up here; dana can be tossed into the SF Dharma Collective bucket.
On Sunday, May 3, at 11am PT, I will be leading a Gray Area Reads! discussion with the legendary Gene Youngblood about his influential 1970 book Expanded Cinema. What an honor! Gray Area is a remarkable indepedent SF institution devoted to art, technology, and education, and Youngblood's book is a crucial study of experimental cinema, early video art, and the links between cybernetics and the visionary. Appropriately, I will be talking to Gene about his chapter on "Cosmic Consciousness." Join the conversation!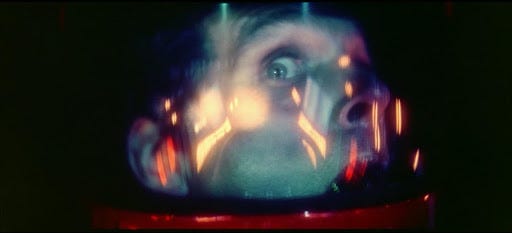 Finally, Spiros Antonopoulos of the Los Angeles Yoga Club and I will be hosting two more sessions of our Cinematic Meditations series. For of an hour or so, we meet on Zoom for a guided sit, a bit of poetic cinema watching, and discussion. The whole series, and the wonderful crew of regulars, has been a highlight of my quarantine. We meet on Thursdays at noon PT, and you can register here and find our more about past events here. Free, but donations accepted for the SF Dharma Collective and LAYC.
---
Watching
High weirdos and California fringe nerds will know the hallowed name of Adam Gorightly, Discordian historian and author of many fine rabbit-holers. So when Adam alerted me that he appears in a new independent film, Bill Darmon's The Hill and the Hole, I was most down. A classy if subdued slice of modern cosmic horror, The Hill and the Hole features an artificial mound, research synchros, creepy locals, and a high desert setting whose very soil takes on a disturbing dramatic role. I liked it. Despite some indy fingerprints like subpar performances and constrained (but still creepy) effects, the movie was smart, wry, and sometimes pretty unnerving. I am happy to report that Gorightly makes a fine turn as a freaky lore meister gone wrong. You can find the movie over at Vidi Space, a niche paranormal flick provider that also offers fare like The Mothman of Point Pleasant doc and, no joke, Bigfoot's Wild Weekend.
Reading
I had a blast reading A.M. Gittlitz's I Want to Believe: Posadism, UFOs, and Apocalypse Communism (Pluto Press). I've always wanted to know more about Trotsky and the Fourth International, and Gittlitz elegantly focalizes the tale through the bizarre career of J. Posadas. The pseudonym (mostly) used by an Argentinian labor organizer named Homero Rómulo Cristalli Frasnelli, Posadas was bully on world nuclear war and eventually brought ideas about dolphin-human communication and intergalactic communism into his increasingly cultish and marginal organization. While I lost my way at times in the byzantine, acronym-choked world of mid-century party politics, the second half of the book was a probing revelation. After exploring Posadas' late New Age turn with only the gentlest of eye-rolls, Gittlitz takes us on a tour of neo-Posadism since the master's death in 1981 and brilliantly argues for its relevance. In a leftist milieu increasingly characterized by meme-making, desperation, and only partly-goofing visions of fully-automated luxury communism, Posadism points a way past (or through) ironic LARPing, and towards a revolutionary imagination characterized, in part, by "an unflinching counterpoint to the neo-fascist politics of exclusion…[a] xenophilia for immigrants and refugees, queers, extraterrestrials and non-human animals."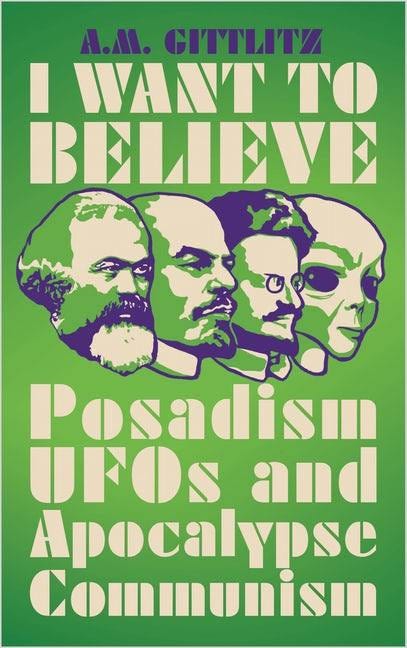 Listening
Jay Babcock, former honcho of the still-missed Arthur magazine, and curator of a fine Spotify playlist, turned me on to this absolute youtube jewel: a crisply-recorded Kraftwerk performance from some nameless Canadian stage in 1975, and only just posted. It's a full show, with barely a tape glitch, and it captures the newly-christened touring quartet of Schneider, Hütter, Flür, and Bartos stretching their electronic wings on their first full international tour. Delicate, playful, and unpretentious, having fun with their goofy machines and modest vocal chops, the group enters a low earth orbit with a "robot pop" sound that remains organic, improvisatory, and still friendly toward the flute. We open with the diaphanous cascades of "Kling Klang", pass through the galactic drift of "Komentenmelodie 1", and close with a 25-minute "Autobahn" that manages to both ride the groove and break down in all the right ways. The home-cooked rhythm rigs are particularly charming, constantly shifting timbres and patterns while forging the revolutionary conjunctio of electronics and The Beat. At a time when most prog bands were sludgy with cleverness, this music enacts a genuinely progressive marriage of kosmiche slop and electronic futurism, deployed with the lightest of radioactive touches.
—Erik Davis
I hope you enjoyed this flicker of the Burning Shore. Over the next few months, I will be experimenting with various types (and rates) of content, and may eventually create subscriber-only content. Please consider subscribing now if you can.